StripeFusing
STRIPED PENDANTS
Fusing stripes is another way to make unique jewelry - and it's easy.
STEPS
1. Cut 3-6 pieces of glass into widths. Widths can be from 1/4" to 1/2" wide. The wider the width the wider the finished piece.
2. Cut these strips into lengths. The longer the lengths, the longer the piece. Normal lengths are from 1" to 3" for pendants. You may user either 3mm or 2 mm glass.
Here are two sets of three pieces, one 1" long and the other 2" long.
3. Place them into the kiln carefully.
I didn't need any glue to stand them on end. If they won't stand on end use some Glastac to hold them upright.
4. Fire them to a FULL FUSE in your kiln. In my SC2, I ramped at 200 deg/hr to 1560 deg and held for 50 min. Then I let them cool at 200 deg/hr also.
5. The results are striped pendants of appropriate sizes.
Notice that the colors red and blue blend into one another.
For more contrast, place light colors next to dark ones.
Notice also how the shape lengths affected the final size.
Here light colors are placed next to dark colors.
6.
Or make your pieces shorter and stagger them . . .
. . . to get this.
7.
You could also place frit on colored glass.
. . .to get this
. . . or use these colors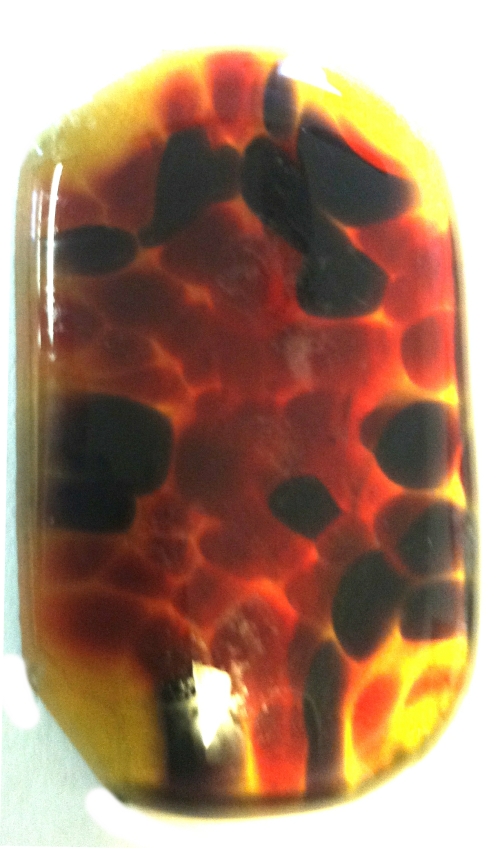 . . . to get this. Notice how the frit takes on a new color as
you look through the yellow base glass.
HAVE FUN
See our Video Tutorials Here: http://aampaproduct421.corecommerce.com/VIDEO-TUTORIALS.html